Current HVAC Promotions from 1st Choice Service Group Inc
You could say you just discovered the cherry to top your sundae. Or you could just be thankful that you're getting a little savings you may not have expected. Either way, you've struck gold, because we have a range of special HVAC promotions that will most likely interest you. From routine maintenance savings to new or replacement system savings, make sure you get the most out of all the promotions in Asheville.
For more savings, be sure to check in to potential federal tax credits and other rebates that may be given out by your utility company.
Find information about our Federal HVAC Credit.
There are countless reasons to do regular routine maintenance on your home's heating and air system. When your system is working its best, you're more comfortable, your utility bills stay at a reasonable level and you can sleep in peace knowing your system won't be taking the night (or day) off any time soon. Lennox® is proud to be a leading provider of innovative, home comfort heating and cooling systems- it's just another way we make you feel better.
Call now and save with
REBATES UP TO $1,600* OR UP TO 60 MONTHS EQUAL PAYMENTS, NO INTEREST FINANCING** on qualifying equipment.
---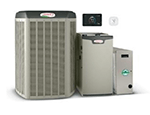 START WITH UP TO $1,250 IN REBATES.*
Save on a qualifying Lennox® home comfort system that includes an indoor unit, an outdoor unit and a qualifying "System Add-On" or "Thermostat." Must include a qualifying "System Add-On" or "Thermostat" to be eligible for the $1,250 rebate.
---
GET UP TO $350 IN ADDITIONAL REBATES WITH THESE ITEMS*
Enjoy additional rebates when you purchase an Ultimate Comfort Indoor System + Ultimate Comfort Outdoor System + iComfort® S30 + PureAirS™ + iHarmony®.
---
*Rebate requires a purchase of qualifying items by 11/23/18 and submission of a completed rebate form (with proof of purchase) to www.lennoxconsumerrebates.com no later than 12/14/18. Rebate is paid in the form of a Lennox Visa® prepaid debit card. Card is subject to terms and conditions found or referenced on card and expires 12 months after issuance. Conditions apply. See www.lennox.com for complete rebate terms and conditions.
**Offer available 9/3/18 – 11/23/18. Requires purchase of qualifying system. Financing available to well-qualified buyers on approved credit. No down payment required. 0% APR for 60 months, with equal monthly payments. Normal late charges apply. Cannot be combined with any other promotional offer. Minimum loan amount $1,000. Maximum loan amount $45,000. You may prepay your account at any time without penalty. Financing is subject to credit requirements and satisfactory completion of finance documents. Any finance terms advertised are estimates only. See Truth in Lending disclosures available from lender for more information.